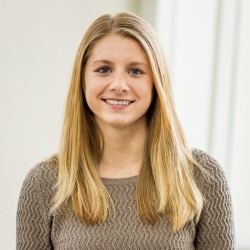 U.S. Commercial Service
U.S. Department of Commerce
Allie VanDriel is a Senior International Trade Specialist with the U.S. Department of Commerce. She joined the organization in July 2020 and works in the U.S. Commercial Service Grand Rapids Office. Allie is a member of the Agribusiness, Healthcare, Environmental Technologies and Energy Industry Teams.

Allie received her Master of Business Administration from Central Michigan University and her Bachelor of Arts in International Studies from Michigan State University, where she was a member of the Women's Track & Field team. Allie is a Certified Global Business Professional (CGBP) and has spent a significant time abroad, having traveled to more than 30 countries.

Allie previously worked as an International Marketing Specialist for the Michigan Department of Agriculture & Rural Development (MDARD) where she provided guidance to Michigan companies seeking to establish and expand their exports of food and agricultural products.