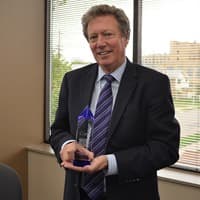 Michigan's economic success is experiencing incredible momentum and that success is due largely to the influence of industry and nonprofit professionals from across the state. MMA is proud to announce its President & CEO, Chuck Hadden, as a recipient of the 2017 Corp! Magazine Most Valuable Professional (MVP) Award, recognizing individuals who have helped contribute to Michigan's dynamic economy. Hadden was presented the award during a banquet event in Detroit on 4/27/17.
"I'm honored to receive the Corp! Magazine MVP award," says Hadden. "As someone who has lived most of his life in Michigan, there is a special connection you have to people who make things for a living."
The 2017 class of awardees are making business happen in Michigan, serving their community, demonstrating strong leadership skills in growing and managing a successful business, becoming industry experts and delivering lucrative business results. Without their hard work, Michigan could not have transformed itself back into a global leader in manufacturing and other essential economic sectors.