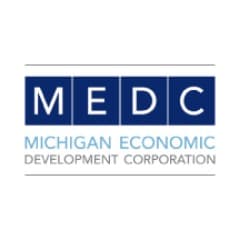 LANSING – The Michigan Economic Development Corporation's International Trade Program has received the President's "E" Award for Export Service, Lt. Gov. Brian Calley announced Tuesday.
The President's "E" Award, presented Monday in Washington, D.C., is the highest recognition any U.S. entity can receive for making a significant contribution to the expansion of U.S. exports.
"In today's globally interconnected world, export sales offer extraordinary opportunities for Michigan companies to grow and create new jobs," said Lt. Governor Brian Calley. "This award reflects MEDC's efforts to help Michigan businesses increase their sales by expanding into foreign markets, which ultimately results in more jobs for our residents."
In a congratulatory letter to MEDC announcing its selection as an award recipient, U.S. Secretary of Commerce Wilbur Ross said, "MEDC has demonstrated a sustained commitment to export expansion. The "E" Awards Committee was very impressed with MEDC's collaborative work with strategic partners to educate Michigan exporters. The office's sponsorship of more than 40 trade missions since 2012 was also particularly notable. MEDC's achievements have undoubtedly contributed to national export expansion efforts that support the U.S. economy and create American jobs."
MEDC's International Trade Program works to extend export opportunities to more Michigan companies and ensure they are connected with the resources to explore new markets, access existing export resources and increase global competitiveness.
About the "E" Awards
In 1961, President Kennedy signed an executive order reviving the World War II "E" symbol of excellence to honor and provide recognition to America's exporters. Criteria for the award is based on four years of successive export growth and case studies which demonstrate valuable support to exporters resulting in increased exports for the company's clients.
For more information about the "E" Awards and the benefits of exporting, visit www.export.gov.
Read the full article at https://mitechnews.com/politics/medcs-international-trade-program-wins-award-expansion-u-s-exports/