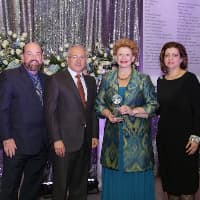 By: Jaye Sciullo
On October 30th, the American Arab Chamber of Commerce hosted the 23rd Annual Building Economic Bridges Gala at Burton Manor in Livonia. The annual gala is an opportunity to network with the American Arab business community as well as other political and corporate leaders and entrepreneurs. This year's keynote speakers, the Honorable Debbie Stabenow of the United States Senate and Christopher M. Schroeder, entrepreneur, investor and author of "Startup Rising - The Entrepreneurial Revolution Remaking the Middle East," spoke of the importance of international business relationships and the vital contributions of the American Arab business community on Michigan's economy.
The Economic Bridge Builder of the Year award recognizes the contributions of individuals for their commitment to leadership and excellence their fields. The 2015 awards were presented to State of Michigan Treasurer Nick A. Khouri and Abraham Kasbo, CEO of Verasoni Worldwide.
The American Arab Chamber of Commerce is the largest Arab-American business organization in the United States, delivering services and counsel to more than 1,500 companies, ranging from small businesses to multinational corporations and business professionals. Executive Director Fay Beydoun is also the Chairwoman of the East Michigan District Export Council and the Chief Operating Officer of Tejara Global Business Development Center.